How to chart in the App Store 4.5 years after launch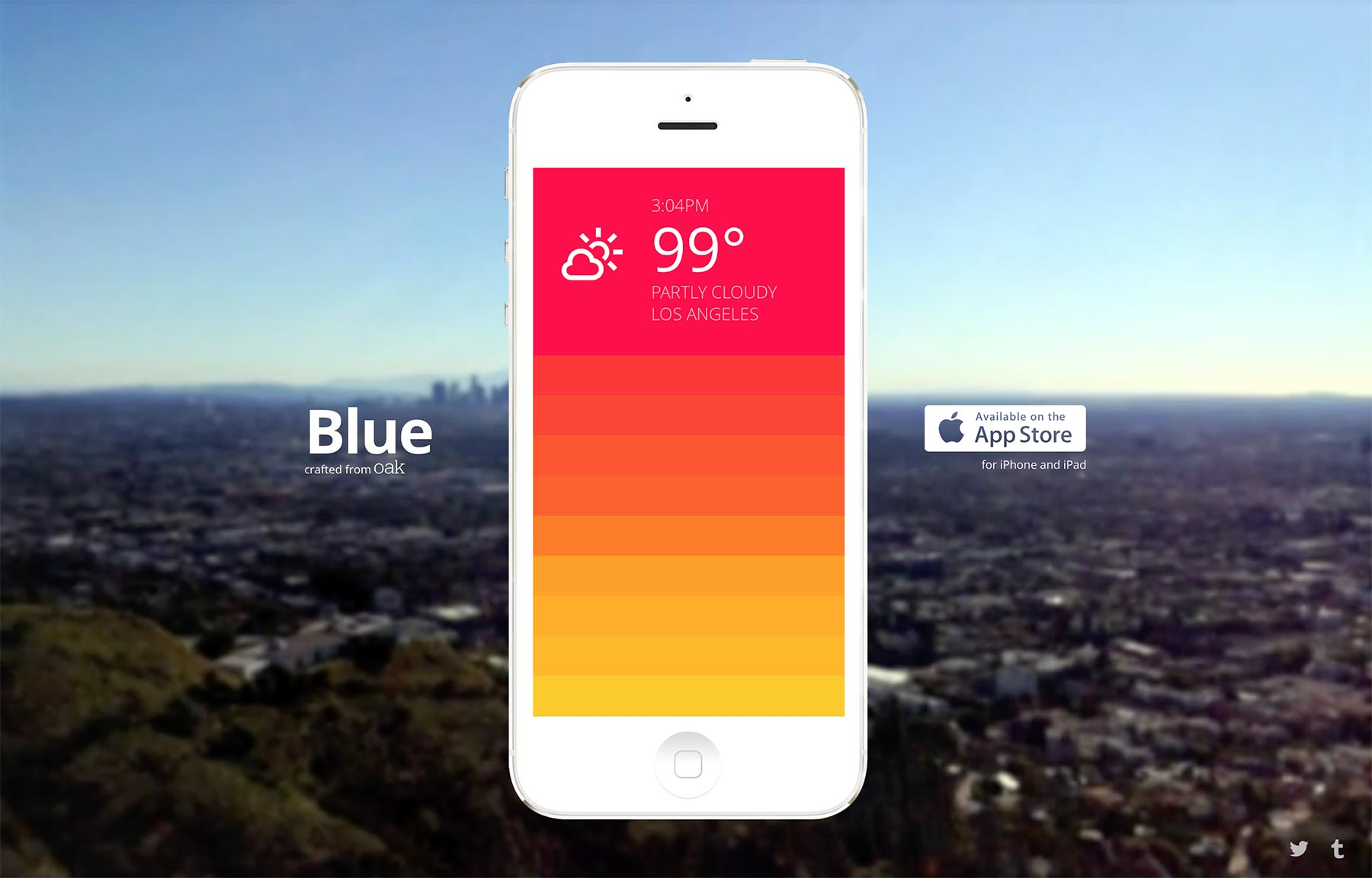 TL;DR make it free.
We launched our very first iOS app Blue in 2013. A dead simple weather app that visualizes hourly forecasts into beautiful colorful gradients.
This week, Blue unexpectedly returned to the App Store's top 25 category charts for the first time since 2013. This post is a reflection on the highs and lows of our experience with the App Store over the past 4.5 years.
Building the app
Blue was conceived and built during a week in Los Angeles for one of our annual Oakweek retreats in January 2013. We had been wanting to experiment with iOS development, and took some time on the flight over to freshen up on Xcode and Objective-C basics.
Inspiration came from a weather widget we previously made for our (now retired) internal status board, which we had mounted on a pair of 60" TVs in our office. The widget took the current temperature and visualized it as a color — red for hot, blue for cold. After a using this for a while, we found ourselves connecting with the colors and instantly knowing what kind of day it is (and if a sweater is needed) if we saw yellow instead of green.
Using this algorithm as a seed, we started brainstorming, sketching, and wireframing something we'd want to use on our phones. Our team of 5 tackled the design, branding, research, code, and testing over the week (among rollercoasters and sightseeing).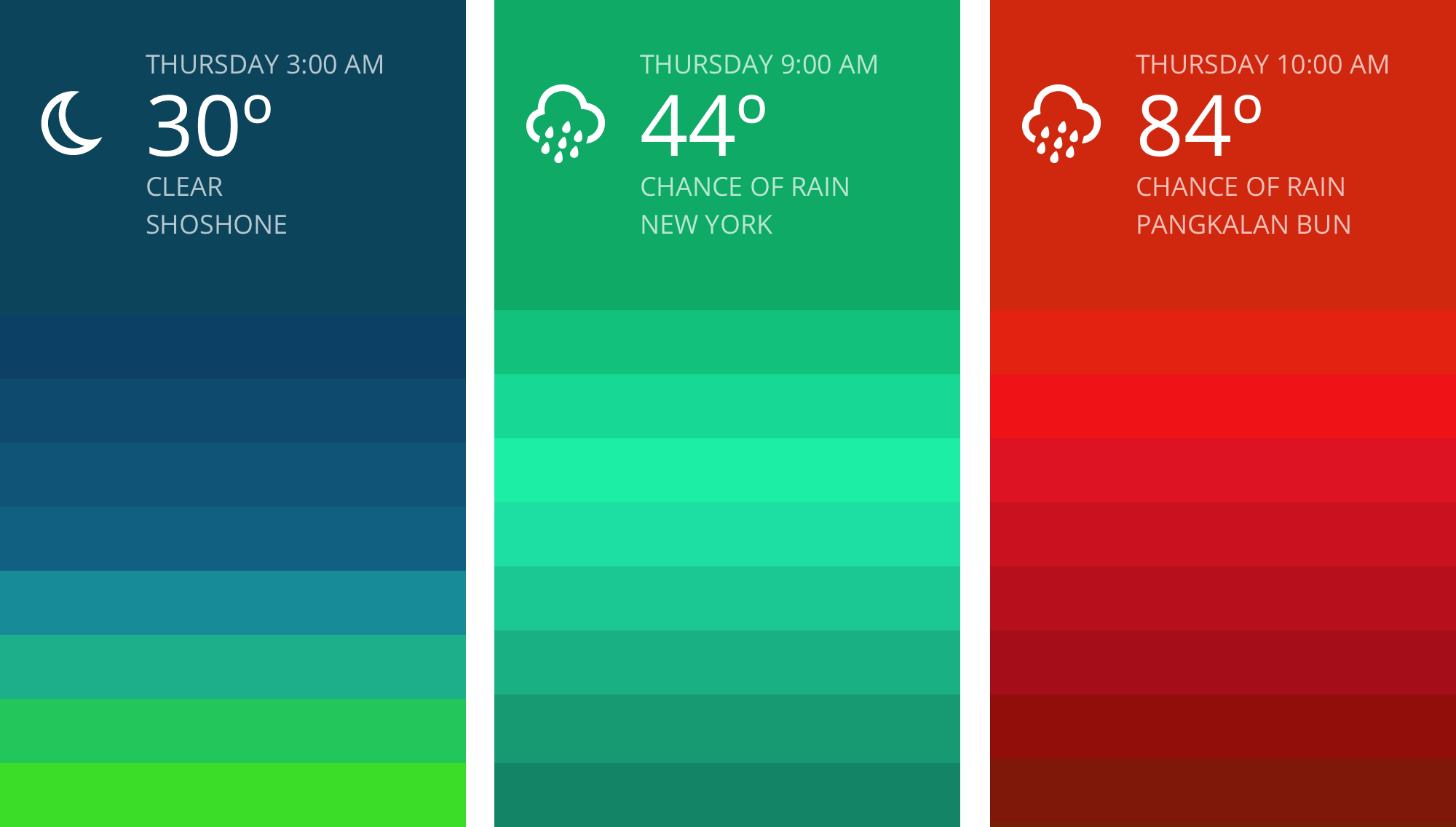 We decided on a domain name, and built a marketing page featuring a timelapse recorded from the window of our Airbnb. At 1:32 AM on our last day, we submitted the app to the App Store before hopping on a plane back to New York.
We intentionally kept the app simple and minimalist due to the time constraints, but that's also the type of app we wanted to use. Just enough to get a feel for the weather at a glance.
Launch
Blue officially hit the App Store on January 30, 2013 after 6 days in review. It was originally approved on January 22, but we (unsurprisingly) had a few bugs to squash and re-submit.
Our marketing page went up, and we announced it on our blog and Twitter. We also put up a Tumblr where users could submit screenshots of weather around the world. It's still a lot of fun to look at.
We were lucky enough to get a few retweets and blog mentions, which helped kickstart our sales.
One of the coolest app demos I've seen. Clever. http://t.co/WZR2QHDj

— Kyle Frost (@kylefrost) January 31, 2013
I love this beautiful new weather app Blue by @oakstudios. Minimalist design can still convey great detail. http://t.co/ZGIJw2RD

— Jeremy Bronson (@jbrons) February 1, 2013
You know your UI is gorgeous when you can run a Tumblr off of just screenshots. http://t.co/RGWto8J1 -- via @blue

— Luke Connolly (@kidminded) February 4, 2013
Sales
Up until last week, we had 8.73k downloads with net proceeds of $6.05k (after Apple's 30% cut) over the entire 4.5 years.

The majority of those sales were in the first couple months. Our best day was January 31, 2013 (the day after launch) with 668 downloads, where we peaked at #4 in the App Store's Paid Weather category (#178 in the overall Paid chart).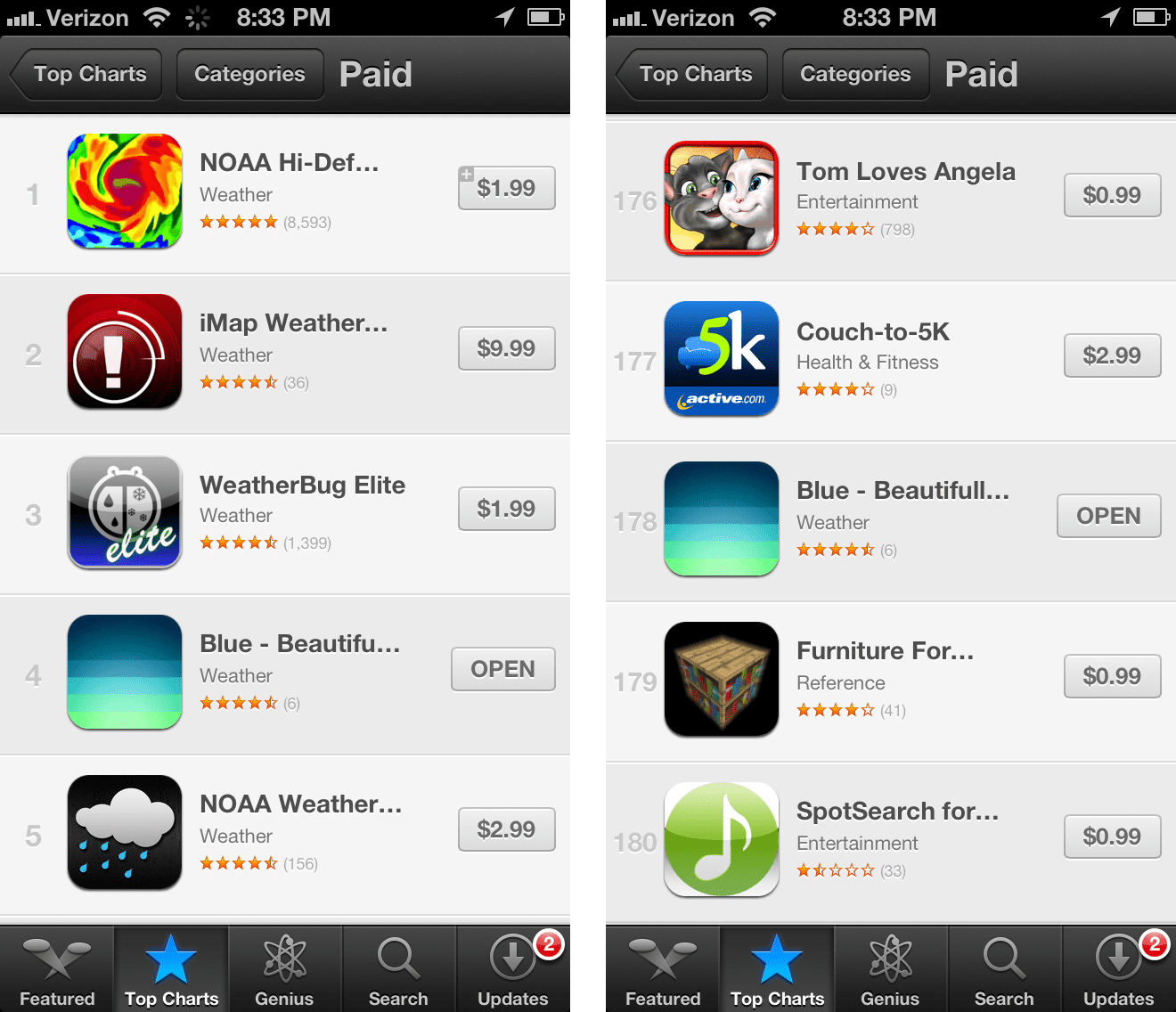 Featured by Apple
On March 5, 2013, we received an email out of the blue (pun intended) from a representative at Apple:
Date: Tue, Mar 5, 2013 at 5:14 PM
Subject: Art Asset Request for Blue
————————

Hello Oak Studios, LCC,

My name is Kimberly, and I am writing on behalf of the App Store Marketing Team to request art assets for a potential upcoming promotional opportunity on the App Store.

The team here is excited about Blue - Beautifully minimal weather forecast, but we want to be clear that we cannot make any guarantees about promotion on the App Store. These art assets are necessary for our Design team to have on-hand should App Store featuring for your app be selected by our staff.

For consideration, we would need to receive your artwork no later than 5pm PT Thursday, March 7th.
Of course we jumped at the chance to be featured in the App Store, and threw together some PSD assets as requested. Our banner went up in the Weather category a few weeks later on April 10, 2013. (Or maybe sooner, nobody at Apple told us when it went live.)
The featured banner stayed up through June, making it through the iOS 7 transition. However it had little effect on sales — we were averaging around 10 downloads per day at the time. I suppose people don't frequent the Weather category page in the App Store?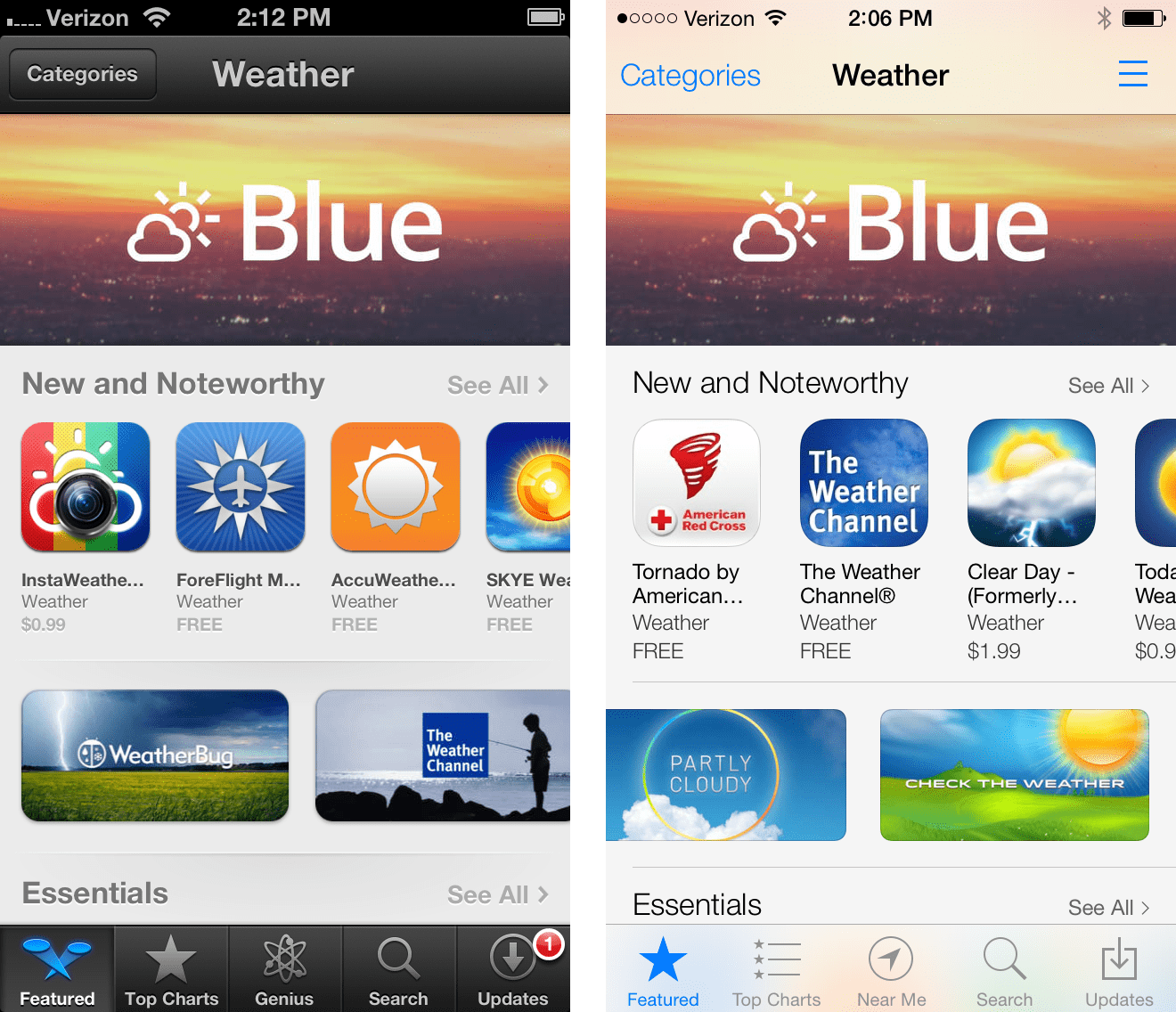 Going free
Sales slowly tapered off from there. By 2017 we were averaging less than 1 download per day, with a whopping $134 in net proceeds for all of 2017.
We weren't making many new sales, but we'd still hear from fans who love and use it everyday. When iOS 11 launched and we didn't have an update ready, people were immediately asking for it. We decided to make a quick update, and without thinking too much of it, we changed the price to free.
I'm waiting to upgrade my phone to iOS 11 because @oakstudios hasn't updated blue yet.

— Karl Oscar Weber (@KarlOscarWeber) September 22, 2017
@oakstudios are you going to update @partlyblue for IOS11? Was my favorite weather app, sad to see it obsolete

— Benedict Evans (@benedict_evans) September 22, 2017
Almost immediately after making the app free, downloads skyrocketed. We had 10.5k downloads in one day, more than the past 4.5 years combined. In one week, we had over 23k new downloads (bringing our lifetime total to 29k).
I thought there must've been a mistake. Just this week Blue made a return to the App Store charts for the first time since 2013, reaching #21 in the overall Weather category.
Our previous downloads barely register on the chart.

Who we have to thank for the spike? Turns out it's the numerous bots that scrape the App Store looking for discounts to compile deal-of-the-day newsletters.
Here's a couple we know of:
@partlyblue Blue is featured in today's AppsGoneFree: https://t.co/GPiDIlsRzG

— AppsGoneFree (@AppsGoneFreeApp) September 24, 2017
Blue by @partlyblue ($0.99→Free) 4/5★, Weather forecast. App Store: https://t.co/8BvsHh2fkn #iOS

— AppDiscount (@AppDiscount8) September 24, 2017
What we learned
While we didn't make a profit on Blue (nor did we expect to), we gained some valuable skills and went on to develop several other iOS apps — including one that would beat Angry Birds in the paid app charts (a story for another time). As a side project, we consider it a big success.
It's important to keep expenses in check. Paying for $150/month for Weather Underground's API was a big expense for a small app. We later switched to Dark Sky which is much more affordable at one cent per 100 calls. Had this existed at launch or if we were quicker to adopt (it came out a few months later), the app could have been slightly profitable.
When it comes to the App Store, there is a huge difference between 99 cents and free, it's sadly a barrier for many people. You might get lucky, but don't expect to get rich on your first app. Also being featured by Apple doesn't guarantee more sales (but it's still an honor).
Temporarily lowering your price is a good way to get the attention of deal-of-the-day bots, though it may or may not be the customers you are looking for. We're going to leave Blue free for now, but skeptical of how long the spike will last.
Most importantly, it helped lead to our most important work yet. Last week we launched a brand new iOS app for Dropmark, an app that took a lot longer than a week to build.
Download Blue (and Dropmark!) free on the App Store, and make sure to leave a review if you like it.