Building a LinkedIn for the creative community

CreativeMornings is a guiding star in the creative landscape; with a presence in over 180 cities, and nearly 300,000 users.
We started working with CreativeMornings back in 2013 when the CreativeMornings team wanted to build an online archive of all their talks, and we've loved working with them ever since.
Our Brooklyn-based team attends their breakfast lectures every month, leaving inspired and full of coffee. CreativeMornings events help to build and foster a sense of community, plus they are a great way to meet people IRL.
Want to know what else is impressive about CreativeMornings? Going to one of their events doesn't cost you a damn cent. CreativeMornings manage to make these breakfast lectures happen for free, thanks to local partners and their global sponsors Adobe, MailChimp, and WordPress. So the only barrier to entry is making sure that you are speedy enough to snap up a ticket.
Their speakers are a diverse range of talented humans working in the creative community. This morning we got to listen to artist Jon Burgerman talk about craft, and it was the best Friday morning ever.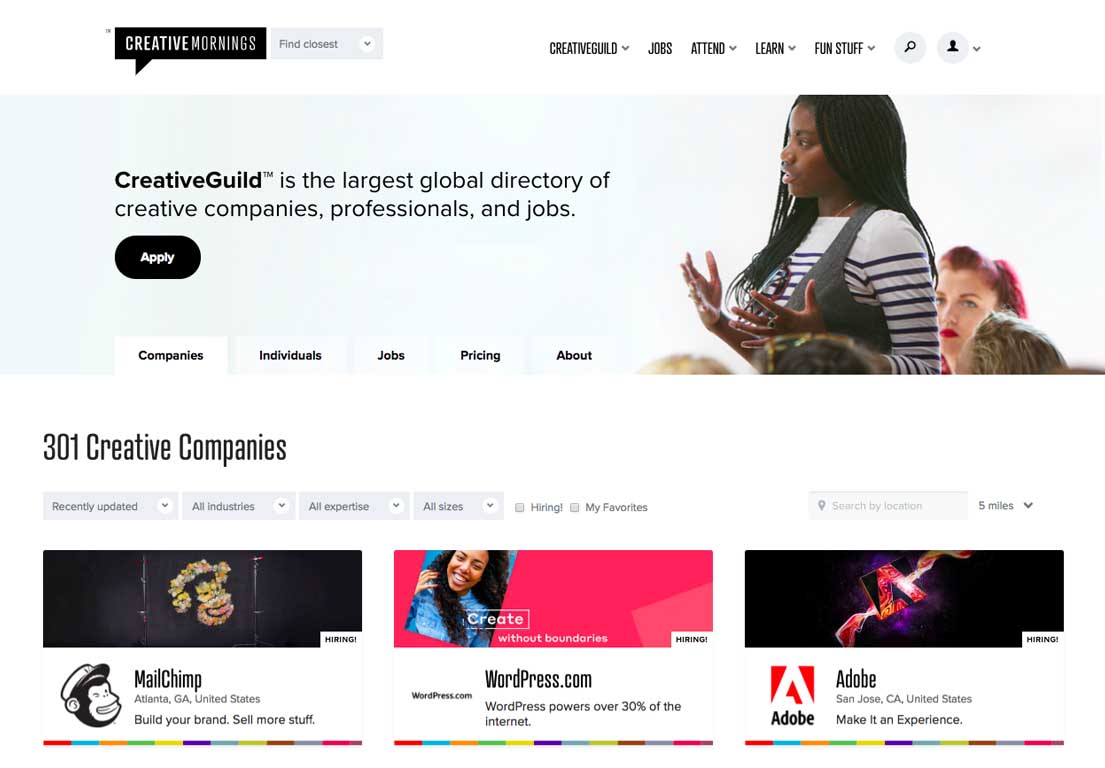 Tina Roth Eisenberg wanted to translate the face-to-face community values of CreativeMornings into an online network for creatives. A 'LinkedIn for the creative community'. A place that exciting companies could share brilliant work and people could find new opportunities.
After a whole lot of Ruby, a fair few late nights, and working with the fantastic CM team: CreativeGuild was born.
The values of CreativeGuild are deceptively simple:
To optimize opportunities over advertisers
To value how you show up as a human, not in an algorithm
To make online experiences feel more like face-to-face interactions
CreativeGuild has a directory of companies that is growing every day, and this is just the start. CreativeMornings want to make the internet a better place. We couldn't agree more.
Head over to CreativeGuild to explore. You can view all sorts of jobs, including some of our open roles if that floats your boat.